Few things are tastier on a warm spring day than a dinner of tenderly cooked asparagus covered in a warm, tangy, sweet, savory sauce atop a bed of fresh spring greens. People have doubted me on this one, but this particular recipe has won over at least one of my friends who professed to not really like asparagus to begin with. In addition to this salad simply being yummy, it's easy to prepare as well, just as long as you're vigilant during the steaming of the asparagus. (Overcooked asparagus = ick.)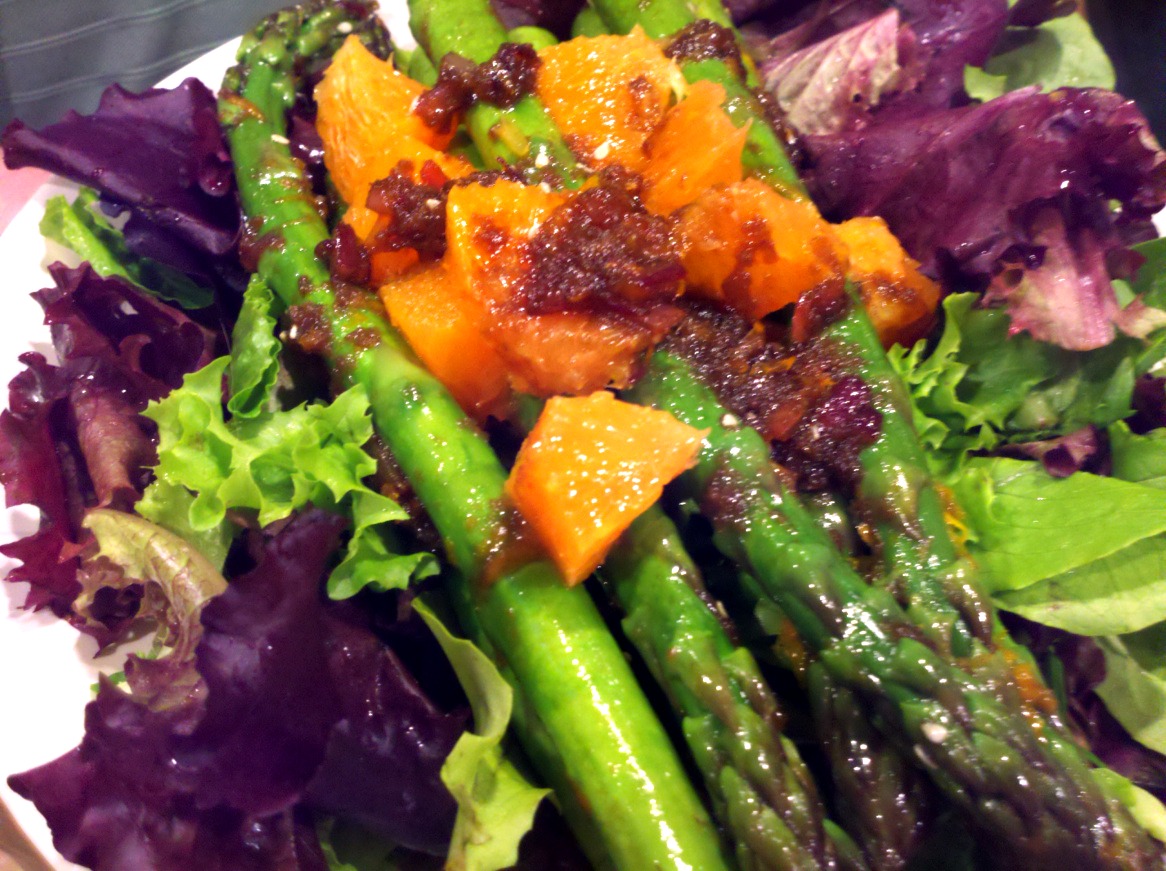 The recipe is based on one in Rachel Ray's Veggie Meals (one of the cookbooks she wrote before she was insanely famous, thus every recipe I've tried from it actually seems like it was carefully tested).
Recipe: Asian Asparagus Salad
Summary: pretty closely adapted from Rachel Ray's Veggie Meals
Ingredients
1 lb asparagus, washed and patted dry
2 tbs soy sauce
1 tbs rice wine vinegar
1 inch (yields about a large tablespoon) freshly grated ginger root
2 tbs dark brown sugar
1 tbs canola oil
1 tbs sesame seeds
zest of 1 orange
6 oz mixed spring greens
1 navel orange, sectioned
1/4 cup red onion, finely chopped
Instructions
Trim asparagus by gently snapping the more tender tops from the tougher bottoms (i.e., hold near the base and try to snap off the bottom inch or so – if it doesn't snap off easily, try further up until it snaps off pretty easily). Steam the asparagus until bright green and just able to pierce with a fork, about 3 to 5 minutes, depending on how thin the asparagus is. Plunge into cold water until the asparagus is cool, then drain and set aside.
Warm a non-stick skillet over medium to medium-high heat. Add the soy sauce, vinegar, ginger, brown sugar, and oil. Cook while stirring until the sauce is bubbling vigorously. Add the asparagus and toss with the sauce until the asparagus is covered and heated. Sprinkle on the sesame seeds and orange zest, tossing briefly. Serve on a bed of mixed salad greens and garnish with orange sections and red onion.
Quick Notes
I cut the amount of oil from the original recipe in half, and I don't miss it. To save time, you can prepare the sauce ingredients while the asparagus is cooking (but keep an eye on the asparagus), and then you can prepare the orange and onion while the sauce is bubbling away. I've found that it's hard to overcook the sauce, as it just gets tastier if you let it cook a couple minutes.
Variations
Since I'm not always in the mood for raw onion, I sometimes toss the red onion into the bubbling sauce for about a minute before adding the asparagus to the pan. That adds the flavor of the red onion without quite as much of the raw onion harshness, if that suits your fancy.
Rachel Ray says you can use 1/2 cup of canned mandarin orange sections, but I figure that if you've already got to zest an orange, you might as well cut up that same orange for some nice fresh sections!
Cooking time (duration): 20
Diet type: Vegetarian
Number of servings (yield): 2 as a main course, 4 as a side dish