Today was an "Afternoon Tea (with Legos)"—how can you go wrong with those two things?!—so I was challenged to come up with some sort of traditional afternoon tea nibbles. Since my body's not a big fan of wheat but my husband is on a quest to become a pizza-making expert (of course, right?), I try to save up my wheat intake for insanely tasty pizza. As such, I've started to experiment with gluten-free baked goods when the need arises; and today, the need was for scones.
Recently I've spent time poring over Annalise Roberts' Gluten-Free Baking Classics, which I have to admit is an excellently written cookbook. Once you get over the initial sticker shock of buying all of the gluten-free flours and ingredients (thankfully the most expensive ones, like xanthan gum, get used very slowly!), the gluten-free recipes are not any more difficult than "traditional" from-scratch baking. There are some different techniques (without gluten, dough is often stickier and simply handles differently), but really it's not so hard if you actually follow the recipe. (As a matter of fact, I screwed up a couple recipe details inadvertently changed the recipe, and they still turned out great!)
These scones came out delightfully crisp on the outside, with a perfect amount of lemony goodness. They were a Lego-tea hit!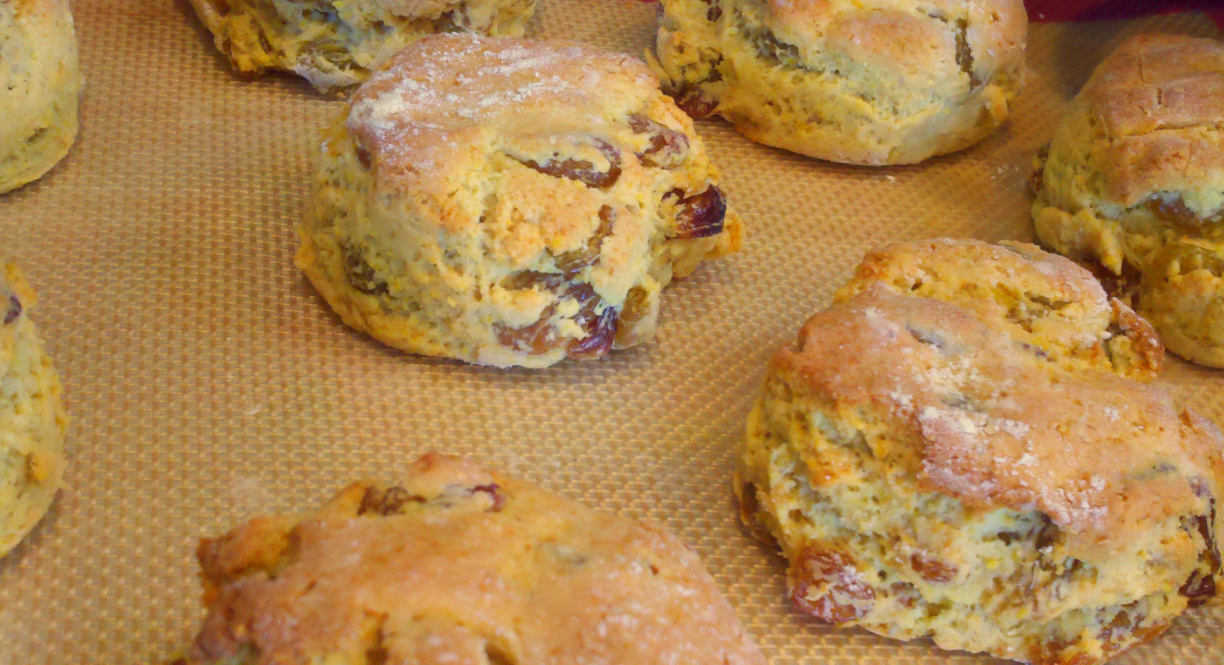 Recipe: Gluten-Free Lemon Cornmeal Scones
based on Annalise G. Roberts' Gluten-Free Baking Classics
Ingredients
1/2 c milk
1 c golden raisins
1 3/4 brown rice flour mix
1 c stone-ground yellow cornmeal
1/4 c granulated sugar
4 tsp baking powder
3/4 tsp xanthan gum
1/2 tsp salt
6 tbs unsalted butter, cut into small pieces
2 large eggs
1 tsp lemon zest
1 tsp lemon extract
2 tsp vanilla extract
Instructions
Preheat oven to 425 degrees with rack in the center of the oven. Prepare heavy baking sheet by lining with parchment paper or using a silicone baking mat.
Combine milk and raisins in small bowl and set aside.
Combine all dry ingredients (flour mix, cornmeal, baking powder, xanthan gum, and salt) in large bowl. Drop in the butter and mix on low speed until the mixture resembles a course meal. Transfer mixture to a small bowl and set aside.
In the previously used large bowl, beat the eggs until they are very light and foamy (at least two minutes). All at once without mixing, add the milk/raisins and flour mixture, lemon zest, and lemon and vanilla extracts. Mix at medium-low speed for 1 minute only.
Scrape out the dough onto a lightly floured surface, and, with lightly floured hands, gently pat out the dough until it is 1-inch thick and round. Using a 2 1/2-inch round cookie cutter (or, in my case, a metal 1/3-cup measuring cup), cut out the scones and place onto prepared baking sheet. Press the dough scraps together and repeat. (The last one will be the tasty, runty one that you get to eat!)
Bake in the center of the oven for 20 minutes, or until golden brown. Serve warm.
Quick Notes
Leftover scones should be stored in an airtight container in the refrigerator and eaten within four days. To reheat, bake at 350 degrees in a preheated oven for 5-10 minutes. (Do not use the microwave for these, or they'll be gross.) You can also freeze them for up to three weeks by wrapping them in plastic wrap and foil around that.
Though the original recipe says it makes 14 scones, I only managed to get 12. I also accidentally used a whole teaspoon of lemon extract instead of half, and they didn't seem too lemony—so the mistake stays!
Variations
If the scones come out too brown and crispy for your liking, try the original recipe's instructions of placing the scones in the oven and reducing the heat to 375 degrees. I missed that step, but I like how they turned out!
Preparation time: 30 minute(s)
Cooking time: 20 minute(s)
Diet tags: Gluten free
Number of servings (yield): 12