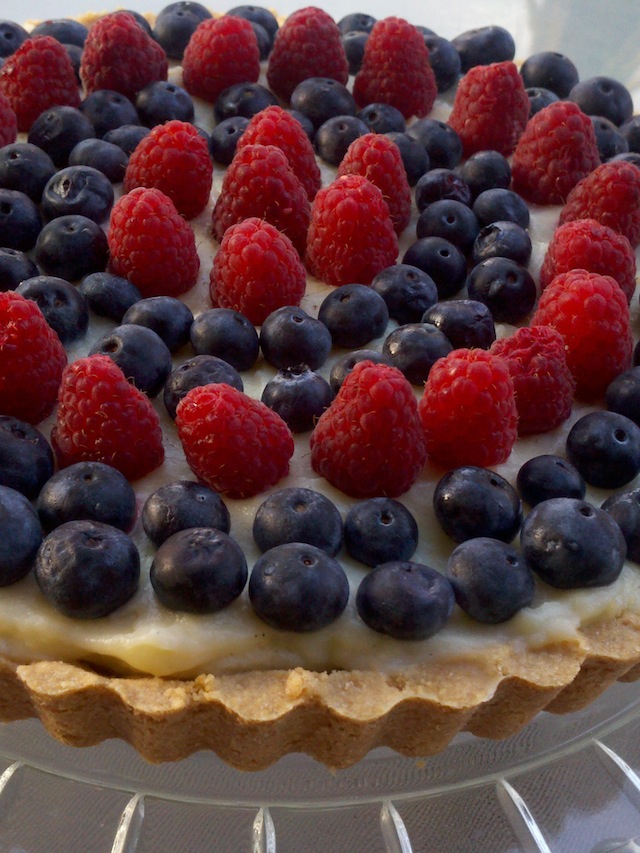 This week was the last week for blueberries at the farmers' market, and considering how much joy they've brought me this summer, I felt like they deserved an honorable send-off for the season. Little did I know that a gluten-free tart crust would actually make me love tarts even more than I already did. Unlike some wheat tarts I've had where the crust is so thick in places that it's hard to bite into, let alone cut, even the thickest parts of this gluten-free crust are light, flaky, and crispy—even the next day. And then when you fill it with creamy, delicious vanilla custard and top it with fresh berries…well, it's simply heavenly. This tart elicited the highest compliment from my usually understated engineer of a husband (who doesn't even tend to like sweets): "You can make this any time!"
Recipe: Luscious Gluten-Free Fresh Berry Tart
Summary: adapted from Annalise G. Roberts's Gluten-Free Baking Classics
Ingredients
For the crust:
1 cup brown rice flour mix
1/4 cup granulated sugar
1 tsp xanthan gum
5 tablespoons cold, unsalted butter, cut into small chunks
1 tsp pure vanilla extract
For the vanilla custard filling:
4 large egg yolks
2/3 cup granulated sugar
1/4 cup corn starch
1/4 tsp salt
2 cups milk (I used 1%)
1 tbs unsalted butter
2 tbs pure vanilla extract (preferably Tahitian)
For the top:
1 1/2 cups fresh berries, rinsed and dry
Instructions
For the crust:
Preheat the oven to 350 degrees. Grease a 9-inch tart or pie pan with cooking spray, and dust with rice flour.
In a food processor or mixer, combine flour, sugar, and xanthan gum. Add butter and pulse or mix on low speed until the texture is crumb-like. Add the vanilla and mix well.
Press the mixture into the bottom and up the sides of the prepared pan.
Bake on center oven rack for 18 minutes or until golden brown. Cool on rack in pan. (Remove sides only after completely cooled, preferably after being filled.)
For the vanilla custard filling:
In large bowl of an electric mixer, beat egg yolks at medium high speed until they're foamy. Add sugar a little bit at a time while mixer is running, until the mixture is thick and light yellow. Lower speed, add salt and corn starch, and then beat until well blended.
Meanwhile, bring milk to a boil in a medium, heavy saucepan over medium heat.
Once milk has barely boiled, gradually add the milk to the egg mixture while the mixer is on low. Scrape the sides and bottom of the bowl, and then mix on medium speed until well blended.
Return the milk and egg mixture to the saucepan and cook over medium heat, stirring constantly with a whisk. (It may get foamy, but don't worry.) Once it comes to a boil and thickens, lower the heat and cook on low heat for one more minute, while still continuously stirring. (The foam should miraculously disappear into the now-thick custard.) Remove custard from heat and whisk in butter and vanilla. Taste it, because it's yummy.
Transfer custard to a bowl to cool, covering the custard with wax paper or plastic wrap to prevent a skin from forming on the surface. Cool in the refrigerator until ready to use.
To assemble, evenly spread cooled vanilla custard into cooled tart crust. Arrange berries on top however it pleases you.
Notes
The original recipe included a glaze for the top of the berries consisting of 1/2 cup jelly and 1 tbs cognac or brandy, which is simmered until the jelly is dissolved and slightly thickened. I couldn't find any jelly that didn't have high fructose corn syrup in it, and then it turned out our berries were so sweet that we couldn't imagine the tart needing the glaze. However, I think I may have a little glass of cognac on the side…mmm…
Variations
The original recipe for the filling called for whole milk, but I only had 1% on hand. I also couldn't bear the thought of subjecting my heart to 4 egg yolks, butter, and also whole milk. The custard probably turned out lighter than it would have, but I can't imagine it being any more tasty, honestly.
Number of servings (yield): 8
This picture here is another reason the blueberries deserved a farewell party. Dan and I actually split it, and it was still more than a little taste! (I swear I did not alter this picture in any way.) Hooray for the Mountain View Farmers' Market!