Having recently moved from Dallas to the San Francisco Bay Area (quite a change, I must say!), I've become quite enamored with my local Mountain View farmer's market. Even though I've now been lucky enough to go almost every Sunday morning for the past few months (even the rain can't keep me away), I still feel like I'm in a surreal dreamland of unimaginably large kiwi fruit and carrots, strawberries even through "winter," more citrus varieties than I knew existed (even though I grew up in Florida!), and even fractals.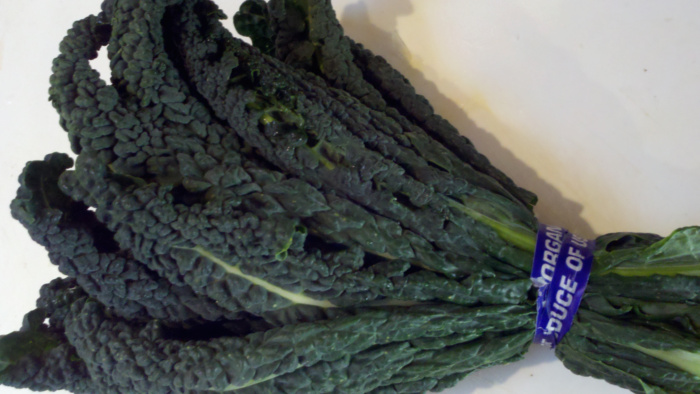 This week, I was inspired by the beautiful Lacinato kale (also known as Dinosaur kale) to make a minestrone-like vegetable soup for my husband, Dan, who has a soft spot for minestrone and also happens to be getting over a cold. Armed with the kale, a bunch of fresh, organic celery, a general description of how to make a good vegetable soup from my mom, and other goodies leftover in my fridge or pantry–including half of a Chantenay carrot from last week's market (which, I have to say, is really a caricature of a carrot, both in size and flavor – Dan says they scream Bugs Bunny at him)–I came up with the following: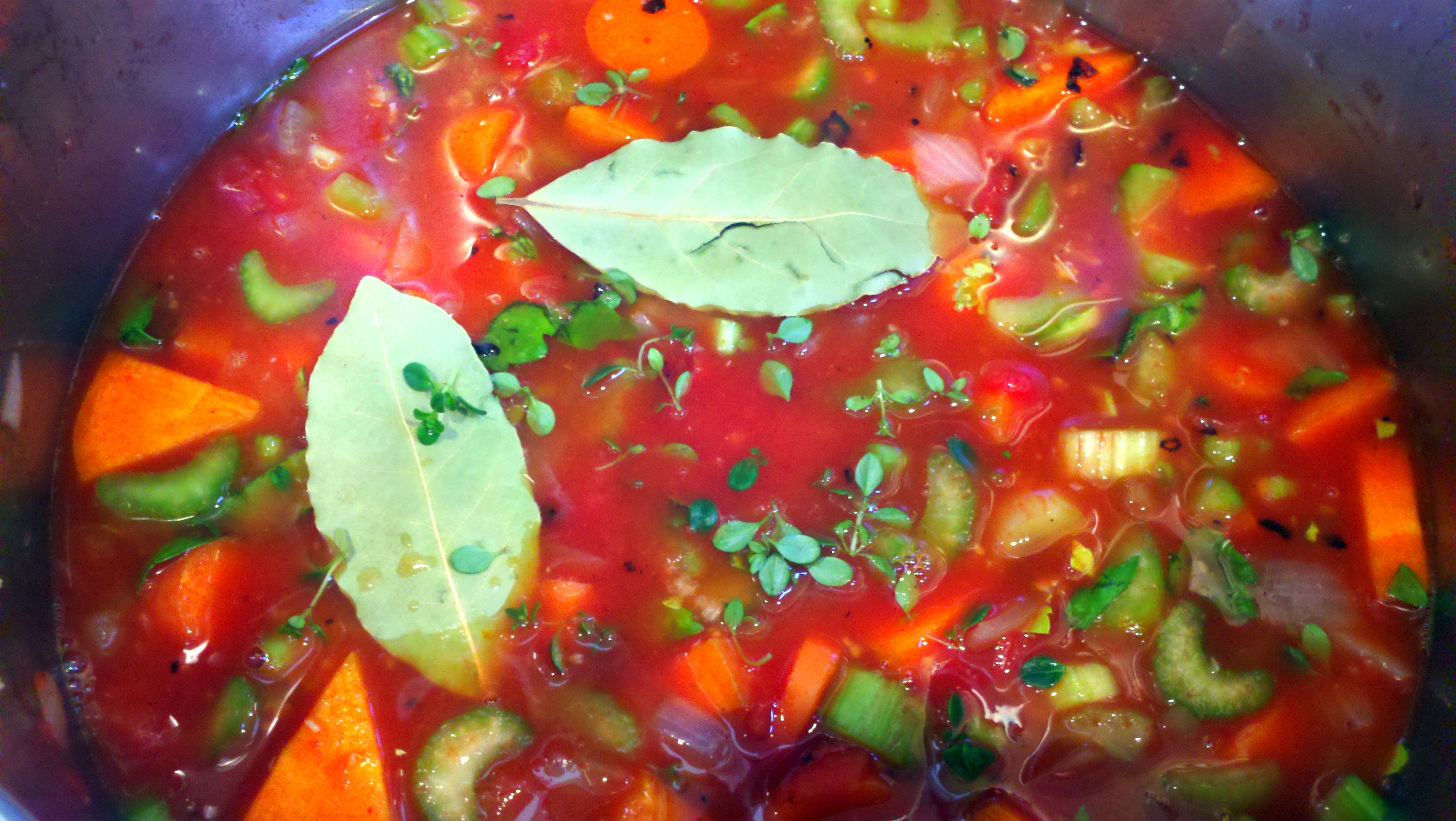 Recipe: Fire Roasted Tomato Vegetable Soup
Ingredients
1 tablespoon olive oil
1 large onion, chopped
4 cloves garlic, minced or pressed
6-7 stalks celery, including leaves, chopped
6-7 carrots, sliced or chopped
1 bunch kale, trimmed (center vein removed) and chopped
32 oz can crushed fire roasted tomatoes
2 bay leaves
a few sprigs of fresh thyme
freshly ground black pepper
2-3 inch parmesan or grana padano rind
4-5 cups vegetable stock
parmesan or grana padano, grated (optional)
Instructions
Heat the oil over medium high heat in a large pot.
Add onions and garlic; saute for about 2 minutes or until soft.
Add the tomatoes to deglaze the pan and add remaining vegetables and spices.
Pour in enough vegetable stock to cover the vegetables.
Reduce heat and simmer, partially covered, for about an hour or until vegetables are desired consistency and flavors have melded.
Serve topped with freshly grated parmesan or grana padano. Crusty bread sops up the soup nicely.
Quick Notes
To save a little time in preparation, chop all the vegetables but the kale. Once you throw in the rest of the veggies to start cooking, take your time with the kale and throw it in whenever you're done with it. The kale doesn't need as much time to cook, but it also does hold up well if you cook it the whole time.
Variations
To make this more like a traditional minestrone with pasta, add 1/2 cup small pasta in the last 10-15 minutes and cook until al dente. You may want to add a cup or so more water or broth, since the pasta will absorb some of it.
Diet type: Vegetarian
Diet (other): Low calorie, Reduced fat, Reduced carbohydrate, Gluten free
Number of servings (yield): 6
I have to give credit to Martha Rose Shulman's cookbook, Mediterranean Harvest, for introducing me to the idea of using a parmesan rind in soup. It adds a rich, almost meaty flavor.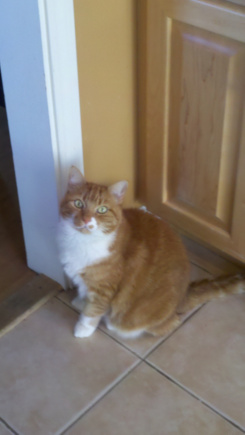 I had grana padano on hand, though, and it seems to have worked pretty well. My cat also liked the idea that perhaps I might drop a few shreds.
For the thyme, I used some fresh lime thyme Dan's mom bought me at the farmer's market last week – I don't know if it really made a difference in the soup, but it sure was fun to use and smell on my hands!